Conference registration has been suspended due to the COVID-19 global pandemic.
| | | | | | | |
| --- | --- | --- | --- | --- | --- | --- |
|   | Early CAD (Until May 15, 2020) | Early EUR* (Until May 15, 2020) | Regular CAD (Until July 1, 2020) | Regular EUR* (Until July 1, 2020) | Late/onsite CAD | Late/onsite EUR* |
| Registration members | $385 | €260 | $485 | €325 | $560 | €380 |
| Registration student members/ Developing countries | $180 | €120 | $225 | €150 | $270 | €180 |
| Registration non-members | $575 | €385 | $720 | €480 | $863 | €578 |
| Registration student non-members | $360 | €242 | $450 | €300 | $540 | €362 |
| Registration Indigenous community members | $1 |   | $1 |   | $1 |   |
Half-day workshops registration for participants costs $52CAD (morning workshops include breakfast, afternoon workshops include lunch). Full-day workshop registration for participants costs $70CAD and includes lunch. Conference days (July 22, 23, 24, 2020) include lunch. Registration for workshops and special interest group meetings will open in May. All workshop participants are required to register for the conference too. 
To find out how to become a member of a constituent organization (one of the digital humanities associations that make up ADHO) and take advantage of the members' rate above see the ADHO Membership FAQs
*The cost in Euros is an approximate value based on July 2019 exchange rates.
---
Registration Guidelines 
---
Overview
If you would like to register at a member's rate, be sure to have your membership number available when you register.  See ADHO membership page for information. We've experienced difficulty retrieving membership numbers from Oxford University Press. If you need to retrieve your number, we recommend you contact OUP directly via phone or chat.
Registration is in 2 parts: Conftool & uOttawa Payment. You will need to register through Conftool first, which will include links to the uOttawa payment portal at the appropriate places. Click through to the payment portal to receive a confirmation number to enter into Conftool to complete your registration.
Registration for workshops and SIG meetings open on May 1st. Follow the "Adding Workshops and SIGs" directions below.
Refunds for conference tickets are available until July 1, minus a $52 administrative fee. There is no refund available for SIG meetings, workshops, excursions or the banquet.
The uOttawa payment portal checkout page, ignore the "Details" field. For more see the image in the registration guidelines below.
Both Conftool and the uOttawa payment portal will generate a receipt for you (uOttawa will email your confirmation. Conftool's confirmation will show up on the last page of registration. Conftool's will be overwritten every time you log back in to add items, such as workhops). Download and keep both.
---
Complete Registration Guidelines
Please note that registration is no longer possible due to the in-person conference cancellation.
We recommend reading these guidelines over reading only the overview above 🙂
To pay and register for the conference
Step 1: Participant Status
Please select the appropriate status for your conference registration.

Step 2: Event and Item Selection
*Note: if you are registering for events that will be catered, be sure to update your dietary restrictions in ConfTool under Overview> Edit User Account Details> Dietary Restrictions before July 1, 2020. 
To receive a payment confirmation number, you must first pay for your conference registration through the uOttawa Payment Portal. If you pay for multiple conference activities (banquet, excursions, workshops) in one transaction, you will use the same confirmation number for all of the activities in ConfTool. 

IMPORTANT: You MUST pay for registration in the uOttawa Payment Portal before continuing to Step 3.
The payment portal will open in a new tab. Please keep ConfTool open while you navigate the uOttawa payment system. If you get directed out of the DH2020 Events to the homepage, click Arts> Department of Communication> Events.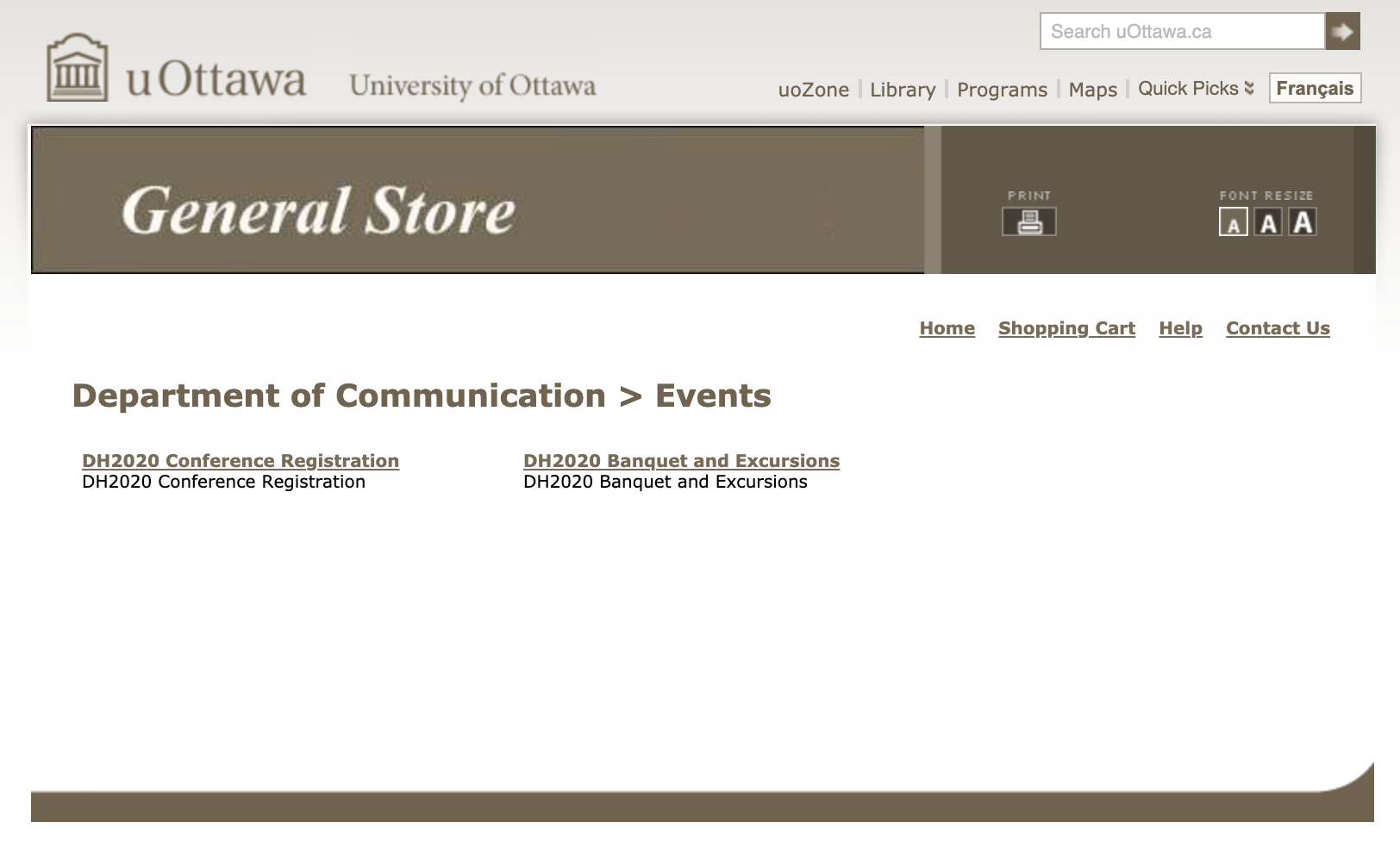 Choose your conference activities and proceed to follow the instructions in the uOttawa Payment Portal. In the Checkout page, you may ignore this field:
Once your payment has gone through, you will be directed to a page that looks like this: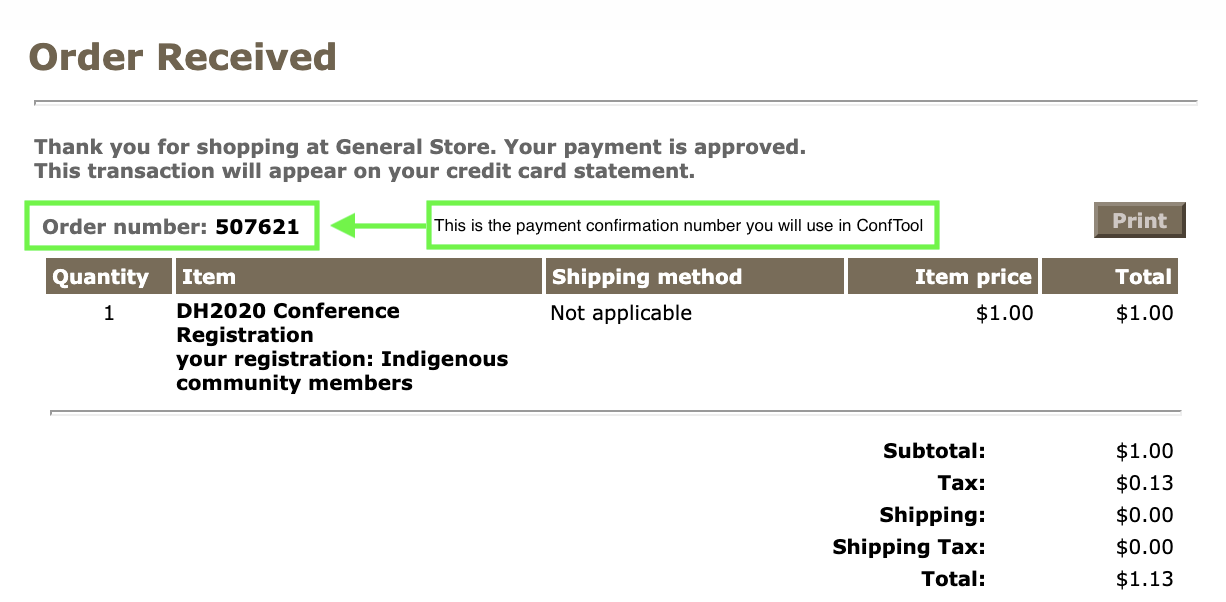 You can then go back into ConfTool using the Order number as your payment confirmation number like this:


Step 3: Payment Details

In payment details, you can verify that you have registered for the conference. Double check with your uOttawa payment confirmation to ensure that the activities (e.g. banquets and excursions) that you have registered for match. You may also fill in your invoice and receipt preferences at this stage.

Step 4: Confirm Registration
Please read the Terms of Registration and Payment and click "Confirm", then click Confirm Purchase (you will not be charged a second time on ConfTool).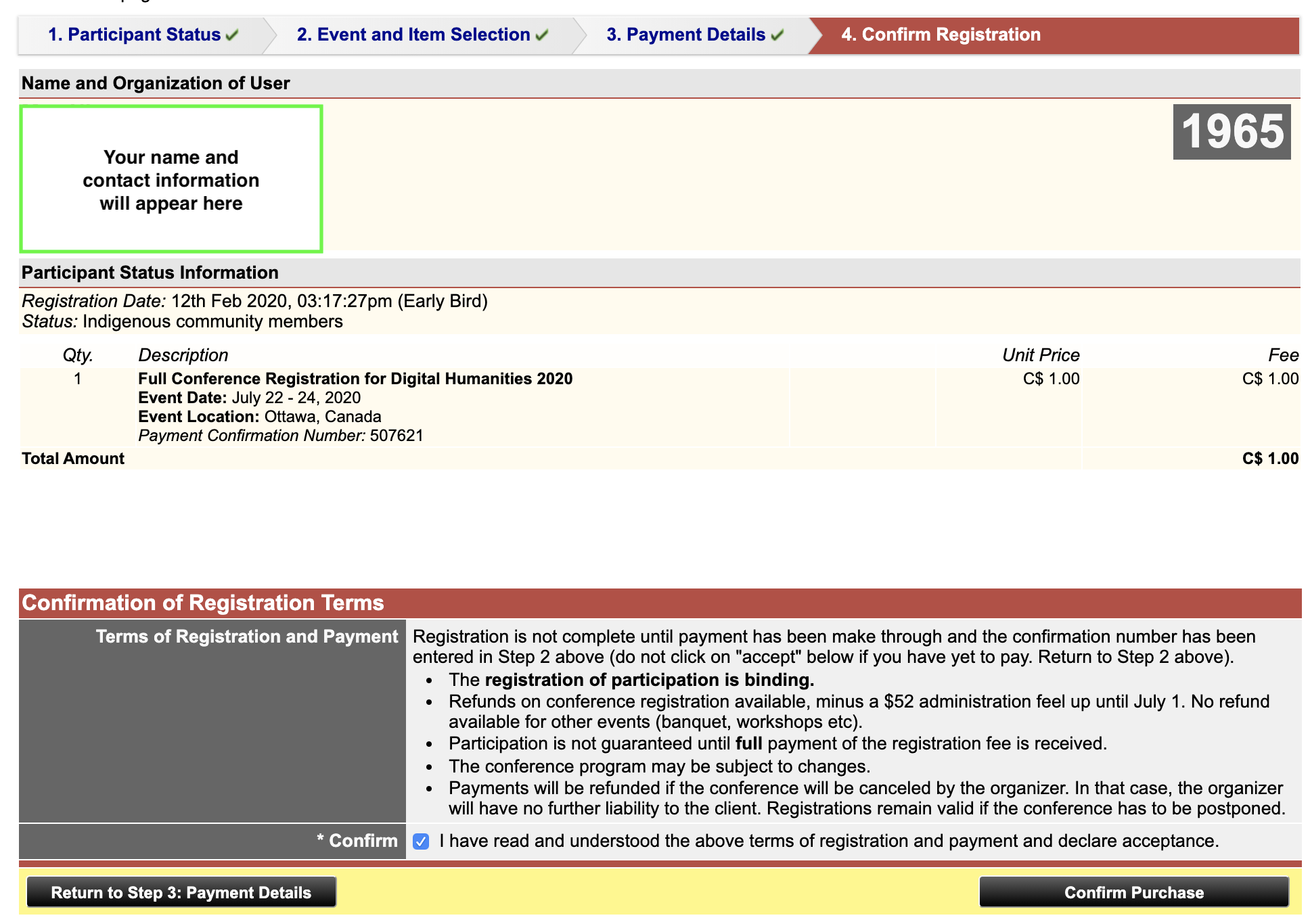 Congratulations, you are now registered for DH2020, see you in July!
---
Adding Workshops and SIG meetings OR to add or cancel a registration for the conference:
To add: In order to add conference activities (e.g. a workshop, banquet ticket, or SIG meeting) you can go to "Edit Your Participant Registration Details". Here you may only add conference activities, and you must pay for the activities on the uOttawa Payment Portal first to receive a new payment confirmation number in order to add the activity in ConfTool. 

To edit or cancel: if you can no longer make it to the conference or additional events or want to make a change, please contact the event organizers at lo2020@adho.org before July 1. Conference fees can be refunded minus a $52 service fee. There is no refund available for other conference activities.
Confirmed workshops, tutorials, and SIG events for DH2020 will be available for registration on May 1, 2020:
Go:DH Meeting (1/2 day meeting)
AV in Digital Humanities Meeting (full day)
Linked Open Data Meeting (full day)
Libraries  in DH Meeting (full day)
Digital Pedagogy Meeting (full day)
Digital Literary Studies Meeting (full day)

Digital Research in First Nations, Native American, and Indigenous Studies around the Globe Workshop (full day)
Additional workshops will be made available by May 1, 2020.
---
If you have any questions about or need assistance with the registration process, please contact the conference coordinators at lo2020@adho.org .